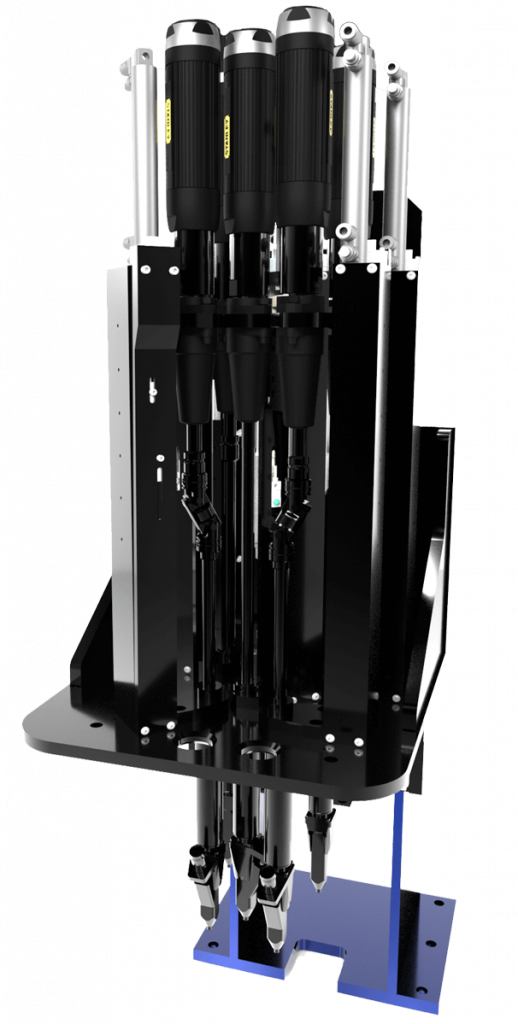 Application: Multi-spindle screwdriver component package for automatic feed and simultaneous driving of multiple screws to rapidly increase productivity.
An engineered multi-spindle screwdriving component designed and built for your business and unique application. Any number of spindles configured to drive multiple fasteners simultaneously for increased speed and efficiency. It's your process, it's your choice.
Multi-Spindle systems can be incorporated:
Over conveyers
With 2 to many spindle combinations
Into rotary indexing system
As a stationary weldment mount
Every multi-spindle component comes on a base mount slide assembly, streamlining integration while maintaining proper tooling location for accurate assembly. Each screwdriving spindle operates with an independent suspension during the driving process for maximum throughput and quality-assured joint control.
The Visumatic Advant-edge
Improves speed and delivers seamless screw rundowns
Ready to mount, plug in, and work upon delivery
Built for streamlined integration, additional optional features are available including integrated fastener transfer sensors and a pneumatically actuated automatic purge tray.
The configuration possibilities are endless!
Application Examples
5-Spindle Complex Part
7-Spindle Self-Tapping
5-Spindle Tight Centers
2-Spindle Purge Tray
5-Spindle Complex Part
5-Spindle Part Surface Clearance Tooling
This machine builder needed to drive 5 screws simultaneously. They chose to weldment mount over a lift and locate conveyor station.
Due to complex part geometry, several Visumatic nosepiece tooling tip configurations were used. The Jaw and Fin-Jaw designs were engineered for each spindle to fit into the tight drive locations.
7-Spindle Self-Tapping
7-Spindle Self-Tapping Operation
This automotive casting manufacturer was increasing throughput for a legacy product with a long life cycle. Each of seven screws was self-tapping into the receiver components.
A 7-spindle screwdriving component was chosen by their machine builder to get the target part rate. The independent suspension screw rundown built-in to each drive system ensured the individual self-tapping operations were completed accurately with the fastest cycle time possible.
5-Spindle Tight Centers
5-Spindle Tight Centerlines with Offsets
A high target torque combined with extremely tight centers challenged Visumatic engineers to apply another robust solution to a screwdriving operation. Heavy duty offsets were utilized to maintain the independent screw rundown sequences while bringing the tooling tips within the required fastening envelope.
The customer was able to make the productivity gains and reduce line head count. The improved assembly quality lowered rework and enhanced the overall process control for the finished good.
2-Spindle Purge Tray
2-Spindle Screwdriving with Optional Purge Tray
This machine builder planned to mount the 2 spindle system over their workpiece. They purchased the optional purge tray, which pneumatically actuates while being controlled by their PLC.
Visumatic built the weldment to their machine specifications pre-installing the purge tray, which extends forward when activated to allow controlled collection of screws discarded during a cycle reset condition. This saved the machine builder work envelope space and cut their integration time.
CASE STUDY
Bolt Driving System Provides Capability for Rapid Automation Deployment
A beam clamp manufacturer began the process of fully automating their assembly process. They approached Visumatic to provide the feed and drive componentry for their machine build group.