Application: Turnkey screwdriving system installs fasteners handling very small to extra-large high torque bolt and nut tightening.
Visumatic's streamlined and ergonomically designed screwdriving platforms make deciding to automate easy. Based around our wide range of fastening technologies, our stand alone automated assembly machines supply straight forward function and outstanding performance. All Visumatic components are field proven with efficient, durable, and accurate drive systems.
Automated Assembly Machine components include:
Automatic screw feeding system
Simple to advanced machine controls package
Part qualifying fixture with sensorized fool proofs (Poka-yoke)
Feed and drive components integrated for Standard, Light, or Heavy-Duty applications
Automated fastening is Visumatic's only business. We've been refining and adding capability to our assembly machine line for nearly 60 years. Our versatile bullet-proof approach drives down the cost of manufacturing while producing quality-assured finished goods.
The Visumatic Advant-edge
"Plug-n-Work" assembly machine delivered ready to go
Qualified assembly with process specific logic controls
Precision bearing drive stroke for repeatable actuation
Flow-line optimization for easy part to part transfer
Quick-change nesting for rapid production change-over
Visumatic's assembly machines are optimized for high speed and accuracy. Designed to accommodate the nuances of your sub-assemblies, they are built to match your specifications and arrive on your floor ready for installation. Each machine comes complete with a first-in-class technical manual including preventative maintenance schedules. On-site training for the entire system is available.
Your process dictates our design
Tooled nosepiece engineered to fit your parts
Widest capability to install clips, nuts, bolts, screws, and pins
Enhanced operator safety features and guarding
Table and Weldment powder-coated and painted to spec
Machine HMI Options of basic mechanical or graphical touch screen
Plant Networking capabilities for all track and trace systems
Visumatic Standalone Automated Assembly Machines are configured for your process, with the best choice of:
Driver Motor: Pneumatic or DC Electric Torque Control
Nosepiece: Jaw, Fin-Jaw, Mini, or Nut-Jaw
Escapement: Standard, Cam, Siamese, Nut, or Finger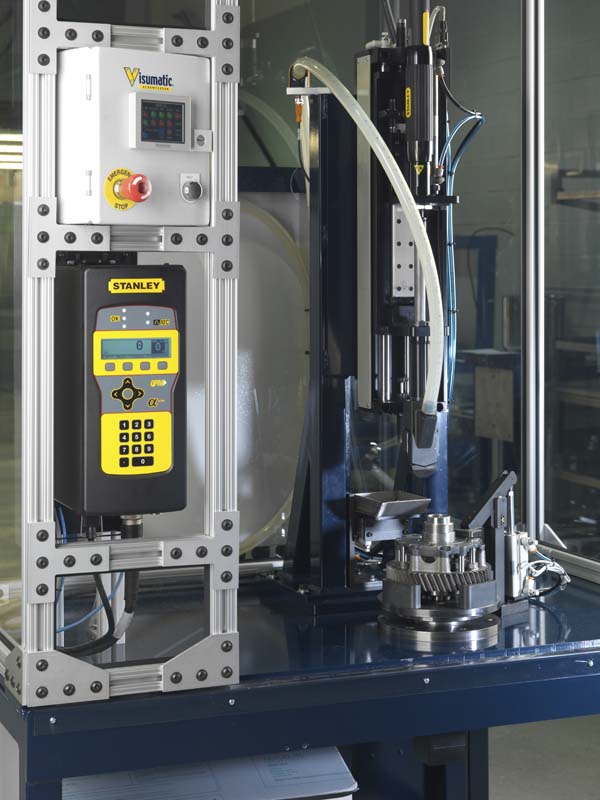 CASE STUDY
Stand Alone Bolt Driving Machine Eliminates the Strain of Manual Assembly
A casting and machine part gear box manufacturer was using an operator to perform a manual bolt placement and tightening operation with inconsistent results. Now a heavy-duty Visumatic VPD Power Driver has been applied to take on the strain of this high torque application.